Peggy Moffitt: The Total Look on Nowness.com.
'Peggy Moffitt: The Total Look' by Phil Pinto not only sneaks us a peek into the home of one of the most famous Sixties fashion + pop icon, but we also get to hear from Peggy herself how she collaborated on certain projects with trailblazing fashion designer Rudi Gernreich and how tired she is of talking about her famous pic of her in the scandalous topless maillot from 1964 designed by Rudi as seen below.
(photo Willliam Claxton)
Famous for her signature Vidal Sassoon 5point cut and doll eyes, she served as both model + muse to designer Rudi Gernreich (whose designs are shown throughout the film above) + hubby William Claxton.
Now if you want to channel Peggy in the suit above but don't have the guts to go topless, try this tee (below) on for size designed by Commes des Garcons in collaboration with Peggy Moffitt from her personal archives.
To channel this look in another famous Rudi Grenreich suit,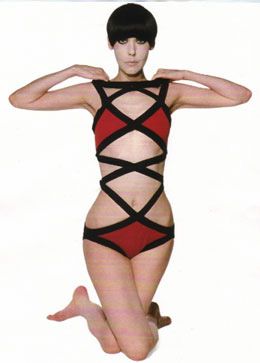 there's this tee.
Both tees are available for purchase at MOCA online. (Museum of Contemporary Art)
(via NOWNESS)