Check out David Bowie's new video for his second single, 'The Stars (Are Out Tonight)', directed by the freakishly talented Floria Sigismondi, from his soon to be released album 'The Next Day'.  Now the stars might not be 'out tonight' but they certainly are in this video, starring Bowie + Tilda Swinton as a suburban couple + the celebrity couple that become their neighbors, played by transgender superstars, Saskia De Brauw + Andrej Pejic.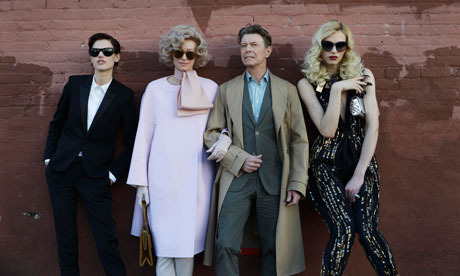 (photo: Floria Sigismondi)
Tilda + Bowie play the 'perfect' suburban couple, with Tilda sporting the only blond do, wearing the occasional bright light blue eyeliner, until their perfect world is infiltrated by their new neighbors right next door.  Now the neighbors, a celebrity couple, accustomed to being watched + stalked, as it comes with being a celebrity, the roles get reversed with the stalked becoming the stalkers and  the stalkers become the stalked.
It starts off with David + Tilda buying a celeb gossip rag at the supermarket – cut to them watching tv lovingly, all cozied up on the couch.  Suddenly, they find themselves watching themselves, showing they're being watched and poof, by magic, Saskia + Andrej are then watching them from the same couch.  This is when the message becomes clear – celebrities call the shots.  All of a sudden, Tilda + David become the puppets + the celebrity couple, the puppeteers.  In fact, it becomes evident when you see Andrej + Saskia invisibly behind Tilda, in the dining room scene, puling her strings, which makes her crazy + scaring her hair straight + edgy.  In real life, If such weren't the case, why else would such a dumb section like 'Just Like Us', exist in US Weekly magazine, showing pictures of let's say Blake Lively, caught drinking Starbucks, if we didn't give 'celebrities' so much power?  
 (via The Guardian)